Let our lifelong Roatan resident Professional Tour guide and Driver Omar Martinez show you the real island of Roatan. Experience Roatan by road,Air or Sea with the best most professional Guide and driver on all of Roatan. Omar Martinez owner of Roatan tours will meet all of our guest's at the airport after arriving in Roatan, and arrange all your travel and vacation needs. From roamantic dinners and drinks on the beach to a full service land tour or spending a few hours at the wild life park or go swimming with the dolphins. Roatan Omar Tours has it all and will help you navigate to the best tours on Roatan all while being your personal driver. And becoming a trusted friend.
Island Dream Vacations with Roatan Omar Tours providing all our services on the ground before or after your trip to Guanaja is a guaranteed good time. After spending a few days on Roatan with Omar he can help you with any medical Tourism or Pharmacy needs from the local doctors, as everyone is friendly and helpfull. He can meet you at your cruise ship and pick you up and reurn you after a day of adventure.

With flexible scheduling and charter packages available, we do our best to accommodate you and your guests. You can choose from day, evening, and overnight tors,Hotels,resorts or charter that you can imagine. Omar will make sure you are taken care of to the highest standard.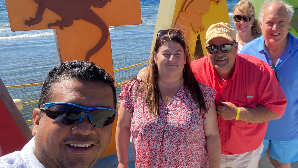 Popular Tours - Destinations on Roatan
Swim with Dolphins
West End Tour
Animal Park
Ziplining Park
Jet Ski Rentals
Glass Bottom boat
Shark Dive
Real Estate Svc
(504)-9694-2519
(504) 3225-1644

Omarantoniomartinez@yahoo.com

Cruise Ship Pickups
Airport-Hotel Pickups